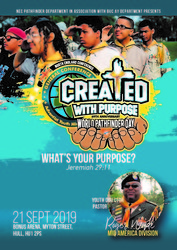 NOTICE: IF YOU HAVE A MIX OF UNIFORMED AND NON-UNIFORMED ATTENDEES, PLEASE LET JOSLYN JAMES KNOW ASAP



IMPORTANT INFORMATION FOR ATTENDEES:

Coach Parking - limited coach parking is near the Arena and it will be available on first-come-first served basis
Registration: Registration desks will be located on entrance C and Box office windows next to this entrance. For security reasons no one is going to be allowed in and out of the building for registration or before entrance procession, with the exception of staff.  So club directors should come to the window or entrance and collect the club packs. Tickets are not issued in advance, only on the morning of arrival. Registration and wristband collections which will be collated by club, therefore it is essential that you liaise with your club director before Sabbath.

Procession: Each club will be assigned a platoon number which will be on the registration pack. Go to your designated platoon number area (This will be somewhere around the circumference of the Arena) where instructions from the drill team will be given on the order for each platoon to enter the building.  YOU must have your wrist bands on! Leave bags in cars or pass them to non-uniformed members from your church!
Prohibited items*: Attached is a list of prohibited items, please go through it to ensure you do not have problems on the day.
Non-Uniformed Church Members: For security reasons, all non-uniformed members will be allowed to in through entrance A ONLY!  Once you have received your wrist band make your way to entrance A.  All bags (see attached list for permitted sizes) will be searched and scanned on entrance.
Uniformed Advs and PFs: All Adventurers and Pathfinders in uniform will be using entrance B only.  NO BAGS of any king will be allowed!  If you need to take a bag in please give it to a non-uniformed member of your church so that they can have it scanned.  Uniformed Advs and PFs carrying any bags will be dropped from the entrance procession and sent to entrance A - as such they won't be able to take part in the entrance procession.
Lunch bags will need to be scanned - this can be done if you have a non-pathfinder/parent/other church member coming along with your team.  If not, one of your staff will need to take the lunch bags via entrance A, where scanners will be and then go back out to join the procession. 


A special commemorative World Pathfinder Day pin has been created.  Please contact the following NEC shops to purchase yours! 

Bradford Church Pathfinder Shop on: 07833 692 695
Aston Newtown Pathfinder Shop on: 0121 328 6380

The World Pathfinder Day is a day when Pathfinders around the globe will gather together to recognise the Pathfinder movement, to celebrate and worship their Leader a
nd Master Guide, Jesus Christ, and to rejoice in meeting Pathfinders from far and wide. 
The World Pathfinder Day in the British Union will gather together Pathfinders from Ireland, England, Scotland and Wales. 
Hosted by the North England Pathfinders, who are combining it with their rally day, the event will take place at the Bonus Arena, Myton Street, Hull HU1 2PS.