The Pathfinder Bible Experience 2020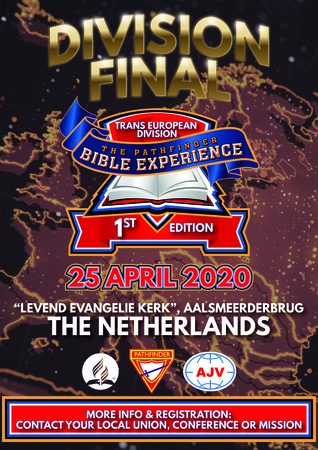 DIVISION FINALS
After the Union finals take place, the Division finals will happen one month later.  The date for the 2020 NAD PBE Division Finals is April 17-18, 2020. In 2020 the Trans-European Union will be hosting a Division final close by, so there will not be a need to travel all the way to the US!  That is still an option for those who would like to, but with our own Division finals so local, why not head there instead?!  It will be the same format and the ranking will carry as much weight as that achieved in the US. Trans-European Division Finals in the Netherlands is 25 April 2020! 




PURCHASE YOUR SOUVENIR 2019 PBE PINS HERE!


For T
esting practice, why not have a go using the PBE Quiz Engine?  Decide which type of questions you need to practise, which chapters need the most work and even allocate the questions a score ranking!
Note that this is not a BUC or PBE-sponsored website, but a free-of-charge website.  The BUC is not responsible for the content therein.





PBE 2020!


The following books will be studied for next year's PBE, so those already keen to get learning can get a head start!


Ezra

,

Nehemiah

,

Jonah

,

Micah

,

Amos

,

Hosea,

Bible Commentary.
Please exclude the following chapters:
Ezra 2;
Ezra 8:1-14;
Ezra 10:18-44;
Nehemiah 7:7-63;
Nehemiah 10:1-27;
Nehemiah 11:3 - 12:26.

NAD HOSEA STUDY GUIDE

These guides have been p

roduced by the North American Division Youth and Young Adults Ministries Department.  Author: Armando Miranda Jr.  

Designer: Zemleduch Creative.
The purpose of The Adventurer & Pathfinder Bible Experience is to promote and encourage in-depth Bible study and memorization by Pathfinders, so their understanding of scripture will increase and their relationship to Christ will grow.
For whatever things were written before were written for our learning, that we through the patience and comfort of the Scriptures might have hope.—Romans 15:4 (NKJV)