BUC Youth Congress - Easter 2020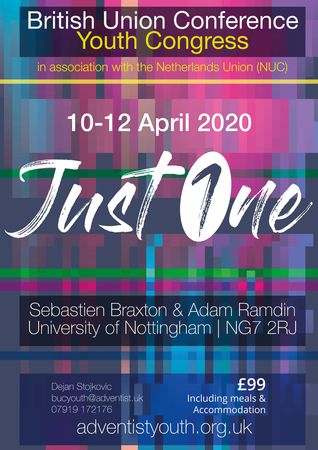 10-12 April 2020
£99 / €115 per person

Nottingham University Campus, NG7 2RJ


Q. What is the theme?
A. Just One - one God, one church, one faith, one goal; one in love.

Q. Who are the speakers?
A. Pastor Adam Ramdin and Sebastien Braxton will be the principal speakers.  Many others will conduct workshops and studies.

Q. What is the Youth Congress about?
A. An opportunity for youth to meet, study, worship and attend workshops on one campus and with like-minded young adults.

Q. What does the price include?
A. The price of £99 includes accommodation in an individual room on campus and all meals from Friday evening to Sunday lunchtime. More details about the accommodation will follow.

Q. Can I invite my non-Adventist friends?
A. Yes, of course! 

Q. Is there an age limit?
A. You must be older than 18 to attend this congress.  There is no upper age limit, but be aware that the talks and workshops will be aimed at young adults.

Q. Where do I register and pay?
A. The registration form is below.  Please use the payment button at the bottom of this page to make your payment.  Or you can call the BUC office (01923 672251) and speak to Natalie to pay by credit/debit card.


Note that you can pay for more than one person in the same transaction - please select the correct number of people and include all their names in the comments field.