The all-European Youth Congress is set to take place in the sunny city of Valencia, Spain in August 2017. The venue is a multi-halled exhibition centre with plenty of space for worships, exhibitions, workshops, TEDtalk-style meetings, meals, accommodation and socialising. The venue address is: Feria Valencia, Av. de las Ferias, 1, 46035 Valencia, Spain.
Take a journey with thousands of senior youth from two Divisions in Europe (Trans-European & Inter-European) and find out the ultimate destination for our travels through life.

Watch all the morning and evening services with Livestream.

See the photo albums and v-logs updated each day

Download the congress booklet

Sign up to the congress app for live updates

THE REGISTRATION & PAYMENT DEADLINE IS NOW CLOSED FOR ALL OPTIONS REQUIRING FOOD.

Non-food ticket purchases:

Individual day tickets are available HERE (for those who would like to attend on certain days only). £20 per day.

OPTION C tickets (congress only) are available below for those who would like to attend every day of congress. (Note that T-shirts are no longer included in this option.) £70 in total.
Please register here first and then pay below:


ALTERNATIVELY, BOTH OF THESE NON-FOOD TICKET TYPES WILL BE AVAILABLE TO PURCHASE AT THE CONGRESS CENTRE ON ARRIVAL.

DOWNLOAD THE CONGRESS INFORMATION BOOKLET HERE!

CONGRESS APP - for Android or iOS. All the congress info (plus live updates) on your mobile.

Booking options - note that travel is not included in these costs.
Option A**: Congress registration, food and accommodation at congress venue. Sleeping in tent pods (similar to the red image below), layout in hall as per blue tents. 50 showers available for males/ 66 for females.
Participants will need to bring their sleeping bag and mat, pillow and torch. There will be a special tent section for families (husband+wife+children).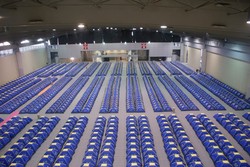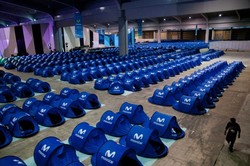 Option B**:Congress registration and food only.

Option C**: Congress registration only.

Option D is now fully booked! Details of the accommodation for those who have already booked for you to plan your stay.
**For children aged 6 to 12, options A, B and C have a 50% discount.For children ages 0 to 5 the event is FREE. Bear in mind there is no alternative programme for children. They must be under the care and supervision of their parents at all times.
UNDER 18? You will need to be accompanied by a responsible adult at all times during the event. Letters of consent will be sent out in due course to be signed by parents/guardians and a reliable witness.

NEED A VISA? If you require a visa for travel to Spain the deadline for requests for letters of invitation is 30 June 2017.

Note that congress fee refunds will only be issued in the case of a denied visa application.


BUC VALENCIA BUS OPTION
- Travel by coach has been organised by the BUC, but the 50-seat is now completely full!




Downloads:
Poster with bleed
Poster (jpeg)
Banner

_ _