BRAND NEW - BIBLICAL STORY BIBLE STUDY GUIDE
Introducing a brand-new resource for teens and youth everywhere.

This Bible study guide has been developed to help you fall in love with the Bible and to read it as one big story of God's love. We will not primarily be exploring the main teachings of the Seventh-day Adventist Church, although we will cover those things. We'll look at how the Bible's big story, and some of the smaller stories are relevant in our lives today, and then try to find our place in this great story.
Our study will not simply be about reading a few verses here and there, but we will be looking at entire Biblical books. It is not enough to know "what we believe". In fact, that is irrelevant if it does not link us to "who we believe in". It is all about a personal, living relationship with Jesus. Perhaps there are many who do not find the Church meaningful because our focus on doctrine and lifestyle issues has overshadowed 'who' it is all about. It must be more about explaining who God is and less about who we are.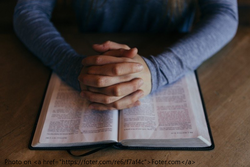 Many young people do not know how to read their Bible. Perhaps you are one of them. You need tools that you can use for the rest of your life. Our desire is to help you understand the great Biblical story, so that you can better understand your own story and fall in love with a loving God.
Zlatko Musija Youth Director, Trans-European Division


This is a run-down of the contents:
Study Plan – Methodology
Study Plan – Who Is Jesus?
Study Plan – The Biblical Story
Presentation – The Seventh-day Adventist Church
Overview – A Bible Study Guide
Lesson 1 – Paradise – God's Original Plan and the World Today
Lesson 2 – Faith
Lesson 3 – God's People and God's Law
Lesson 4 – The Kingdom of Israel – A Man After God's Own Heart
Lesson 5 – Prophecy and the Coming Messiah
Lesson 6 – Discipleship – Part 1
Lesson 7 – Discipleship – Part 2
Lesson 8 – Discipleship – Part 3
Lesson 9 – The Church and the Holy Spirit
Lesson 10 – The Church and the Individual
Lesson 11 – The Sanctuary
Lesson 12 – The Second Coming of Christ
Lesson 13 – The Righteousness of God
Lesson 14 – Paradise Restored
The Seventh-day Adventist Movement
Lesson 15 – Ellen White
Lesson 16 – Healthy Living
Lesson 17 – Family
Additional Resources
Seventh-day Adventist Beliefs
Baptismal Vows
DOWNLOAD THE STUDY GUIDEBOOK HERE