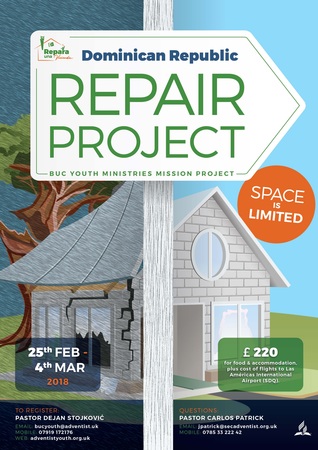 The reports of the devastation caused by the recent hurricanes and earthquakes in the Inter-America Division produced a desire for a very practical and hands-on response from the British Union regional directors. After consideration and in conjunction with local government and church contacts a plan has been formulated to take a group of young people from the British Union to a location in the Caribbean to undertake a useful and worthwhile project to assist in the relief and recovery of one of the island nations.
This will be organised through Pastor Dejan Stojković at the British Union Youth Department where registrations and payments will be taken.  Pastor Juan Carlos Patrick (SEC Teens Director) has been instrumental in working with the organisers in the Dominican Republic.

Here are the details of the Mission Trip:
Dates:       25 February – 4 March 2018


Location:  Santo Domingo in the Dominican Republic.


Costs:       flights at present into Las Américas International Airport (SDQ) are approximately £530.  Accommodation, food and local transport will cost approximately £220. Applicants will have to fund-raise for their own participation costs.


Nature of the work: house repairs and cleaning up in the local community.  Any other useful community work.
In addition, and if enough money is raised, hiring local medical and dental staff to work with any BUC medics and dentists to run local community clinics.


Dominican Republic contacts:  comprised of government officials, UNAD and Adventist administration staff based in DR.


Spaces are very limited, so book your place now.