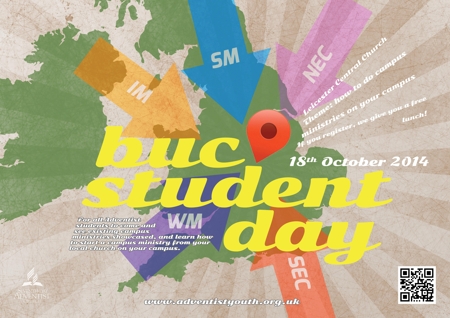 LAST CALL FOR BOOKING LUNCH. OUR NUMBERS HAVE ROCKETED. WE ARE EXPECTING OVER 400! PLEASE CONTINUE TO BOOK ONLINE BUT BOOKINGS AFTER TUESDAY NOON NEED TO BE PREPARED TO BRING YOUR OWN PACKED LUNCH.

When: Sabbath, 18th October 2014,
9.30am prompt start!
Where: Leicester Central Church, Corner of London/University Road, Leicester LE2 1EF
Who: All students over 18 in further education.
Why: A day to meet, worship and share ideas and stories about faith-sharing.
What: ...are you waiting for! Book your place today!
Book your place and lunch now!
Corner of London/University Road Leicester LE2 1EF
Corner of London/University Road Leicester LE2 1EF