BUC Student Day & weekend training - Sabbath 12, Sunday 13 September
2015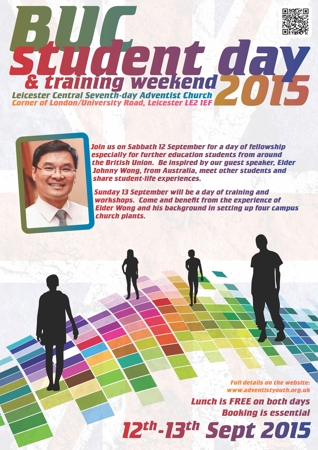 Leicester Central Church
The BUC Student Day and training day took place over the weekend of 12-13 September 2015. Here are the highlights:


Special Speaker was Elder Johnny Wong from Hong Kong.
He was an Elder of a youth-led church, Gateway Adventist Centre (GAC), a Seventh-day Adventist outreach centre located in the heart of Melbourne, Australia.
He has been involved in four urban church plants linked to public universities and is now coaching several churches worldwide in urban evangelism. GAC has been blessed with over 170 baptisms with many from the universities in a very secular city.
He has served on the conference executive committee and other company board of directors. His academic training is in Information Technology and he has served in senior management positions at Oracle Corporation, Hewlett-Packard, Ansett Australia Group and Penguin Books.
His passion is to see young people mobilised as an army of youth presenting the everlasting gospel.

Programme Highlights:

Student testimonies

Discussion panel

Special items

Devotionals

Campus ministry testimonies

The Message – from Elder Johnny Wong

Praise & worship

3 workshop sessions (on Sunday)

Q&A session

And not forgetting a free lunch on both days

!


2015 Student weekend Photo Gallery
Elder Jonny Wong on setting up a student ministry on campus

Keep in touch through the website or Facebook

Click here to see the photos from Student Day 2014.