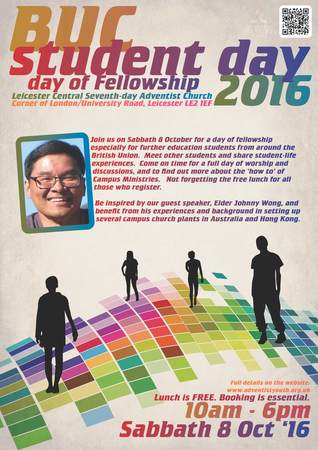 BUC Student Day was a great day with over 400 students and church members packed into the Leicester Central church building!

WERE YOU THERE?
Please fill out our FEEDBACK FORM here.

When: Sabbath 8 October 2016 10am - 5.30pm
Where: Leicester Central Church, LE2 1EF
Who: For those studying a further education degree or qualification
What: Join guest speaker Elder Johnny Wong and find out how he set up his successful ministries on campuses in Australia and Hong Kong. Learn how to share your faith in a non-complicated way to your fellow students and give a Bible study.

See some photos from this years' event and some more photos!

Johnny Wong - How to Give a Bible Study - Sabbath afternoon workshop

Chantal Tomlinson & Chisha Chitambala - How to Start an Adventist Student Society - Sabbath afternoon workshop

ASC presentation - Justin Kim - Keys to being a Successful Student




See the gallery of photos from last year's Student Day.