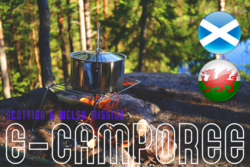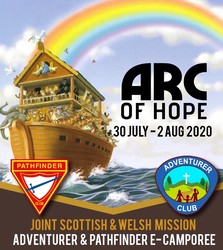 Scottish and Welsh e-Camporee 2020
30 July - 2 August

Register now for this amazing camporee - all taking place from the safety of your own back garden or living room!  That's right, set up your tents for an at-home camping experience being organised by the Scottish and Welsh Mission Pathfinder sponsors.

Programme:
Opening Ceremony 6.30pm Tuesday 30 July
Closing by 1pm Sunday 2 August


Those from outside of the Scottish or Welsh Mission territories, are very welcome to join the e-Camporee via the Facebook live platform.  The event will be broadcast simultaneously on the 'Scottish Mission Pathfinders & Adventurers' page and the 'Welsh Mission' Facebook page. 
There is no charge for this event, but patches will be available to purchase - details of those coming soon. 
Please complete the registration form below...