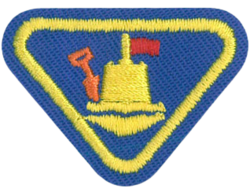 Sand Art e-Award (Busy Bee)
REQUIREMENTS
1. Read and discuss the story of the wise man and the foolish man in Matthew 7:24-27.
2. Find and read at least 3 more verses that talk about sand.
3. Role play the story about the wise man and foolish man.
4. Sing a Bible song about sand.
5. Name at least 5 everyday uses for sand.
6. Make your own coloured sand.
7. Create at least 2 sand art projects.
a. Sand art bottles
b. Picture frames
c. Pre-glued pictures
d. Make a sand castle
e. Clothespin butterfly


Grade: 1
Originated:  2013
e-AWARD
We suggest that if there are any presentation elements of the award you record a video of yourself and include it with your written assessment in your folder.  Your director will check all your work when your club resumes.

Finished all your requirements?  Complete this form online and print off the confirmation for your folders.


For all your Adventurer and Pathfinder supplies, please check your local conference and union shop.  For unique BUC badges, supplies and much more, order from www.pfclub.co.uk. 
We are not shipping at the moment, but you are able to place your orders online.