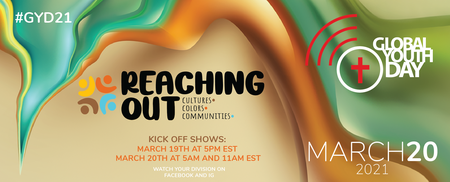 GLOBAL YOUTH DAY

20 MARCH 2021
REACHING OUT: CULTURES, COLOURS, COMMUNITIES
What will you be doing on this day to Be The Sermon in your community?  How creative can you be this year to be able to make contacts, to help someone and to spread encouragement and cheer even while in lockdown? 

CREATIVITY REQUIRED THIS YEAR!
We understand that there are limitations to planning this year and it will not be a traditional year of community action, but there is still plenty that can be done to impact the community, whilst still remaining safe and adhering to safety guidelines in your region. Here are some ideas - let's hear some of yours!


- Plan a quiz (hosted online)

- Organise a social gathering on zoom for community group (teens, children, seniors, etc)

- How about running a craft session where craft packs are sent to people in advance and they get together to do the crafts online


- Could you do an online healthy cooking class for the community?

- Make care packages/school supplies which can be delivered to people/homes etc. without having to physically get together. 

- Arrange an online concert or prepare a recording of a selection of songs/poems/readings/a play from your youth group for your local care home?

- What else can you think of.....?
DOWNLOAD THE RESOURCES FOR GYD 2021

FUNDING FOR 2021 PROJECTS
A small amount of funding is available.  Please contact your regional youth or Pathfinder director/sponsor for the application form.  The deadline for applications is midnight on Monday 11 January 2020. You must submit it to your regional director/sponsor who will then forward to the union/division for consideration at the Division Mission Board meeting. Any applications sent after that date may not be eligible to receive funding for this year.