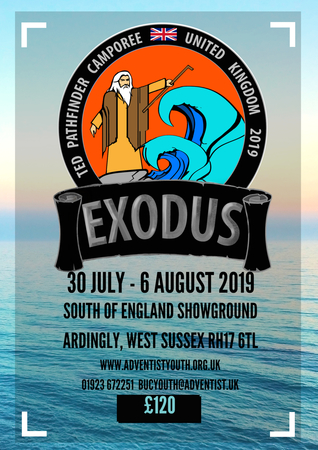 30 July - 6 August 2019

ABOUT THE CAMPOREE:
Taking place at the largest showground in the heart of the Sussex countryside, the next Trans-European Division Camporee is expected to be the largest ever!  With more than 4000 people anticipated on site, planning has begun in earnest to make this a fabulous event for Pathfinders from all countries around the Division.

ACTIVITIES:
The camporee will feature all the regular events and activities, including Market Day, a community project, crafts, honour activities, sports, pioneering pole structures, a whole-camp activity for the day, etc. 
See the complete list here.


SPEAKER:
Worship times will take place in a massive barn with plenty of room for everyone. The speaker is Melissa Myklebust, a pastor in Norway and the associate youth director for the Norwegian Union. She loves working with teens, children and young adults. We hope that the worship gatherings will be as interactive and immersive as possible. There will also be a chance to express your commitment through baptism on Sabbath.  

DOWNLOAD THE DRAFT CAMPOREE PROGRAMME

DOWNLOAD THE CAMPOREE MENU
- The menu ingredients for the following day will be provided each evening, so clubs can choose in which order they would like to eat the lunch/supper meals.
- Alternatives will be provided for milk, eggs, cheese, vegans, allergies and special dietary needs.
- Remember that special dietary needs and allergies must be clearly specified on the camporee club spreadsheet.  If someone has not notified us via the club spreadsheet of their dietary requirements, then we will not have provisions for them and the club will have to supplement the necessary food items.
THE CAMPOREE VENUE:
The venue is the largest showground in the South of England and there are 150 acres for our exclusive use at the camporee! With the British summer reknowned around Europe for being 'unpredictable' be reassured that the site has plenty of indoor spaces should they be needed!  It is conveniently located 15 minutes away from Gatwick international airport, is not far from the main M23 motorway and is just 1.5 hours from London.


MARKET DAY



CAMPOREE COSTS: 
| | |
| --- | --- |
| DESCRIPTION | PRICE |
| CHILDREN AGED 10+ | £120 |
| STAFF & ADULTS | £120 |
| CHILDREN AGED 5-9 | £40 |
| CHILDREN AGED 0-4 | Free |

Camporee costs include the following: site camping costs for 7-nights, meal ingredients for every day of camporee, participation in activities, worships and Market Day, camporee T-shirt and a camp badge.

Note that there will be NO activities planned for non-Pathfinder-aged children.  These children aged 0-9 must be supervised by a responsible adult at all times, and are NOT eligible to receive T-shirts, camp badges and other camporee items. They will also NOT be able to take part in the planned activities and honours. Everyone attending will, however, be able to attend the worship times and browse the stalls during Market Day.

REGISTRATION PROCESS:

1. You should have a completed and signed Camporee Application form for every single person attending (including young children). 
Club leaders retain these forms and use them to complete the next step. Please collect the monies from your club members.
Club leaders must bring hard copies of the forms with them to the Camporee.
Download the Camporee Application Form here.

2. Using the information on the application forms, the club leader should compile the required details on the Club Leader's Spreadsheet.  This should then be used to calculate the total charges for your club. 
The spreadsheet and the final amount should be sent by the club leader to your regional Pathfinder Director/Sponsor (NEC please send to BUC office) before the deadline.
Download the Club Leader's Spreadsheet here.

GENERAL INFORMATION AND CONTACTS:

Please take time to read the UK policy on knives and other bladed items coming into the UK.  UK Knife Legislation document. 
You can also like us on Facebook for news alerts about this event and other Youth & Pathfinder events taking place in the UK & Ireland.
The official TED Pathfinder Camporee website is www.camporee.net