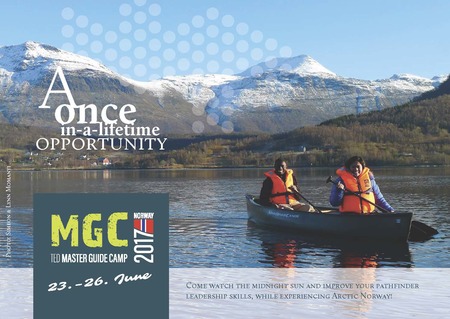 Master Guide Camp VI -
"The only camp in the world where you can take the "Midnight Sun Honour"
A camp, only for leaders and Master Guides,
where you can share your Master Guide experience with others,
discuss relevant issues to pathfindering in Europe
and learn new leadership skills.

The TED Master Guide Camp (MGC) will take place for the sixth time from 23-26 June 2017.
This is the sixth TED Master Guide Camp following the success in the Netherlands, UK, Denmark and Slovenia and now we look forward to welcoming you to another very worthwhile and enjoyable event.
DUE TO AN UNPRECEDENTED NUMBER OF APPLICATIONS, THE CAMP IS NOW FULL AND NO FURTHER APPLICATIONS WILL BE ACCEPTED.

Visa Letters
For participants who require a visa for Norway, applications should be received by 24 March 2017 latest to allow enough time for Visa invitation letters to be written and application appointments to be made at the Embassies.
You will need to complete a PASSPORT FORM in order for the Norwegian Union to create a letter of invitation which you can take with you to your embassy appointment. Appointments become scarce nearer the summer time, so please book yours in good time. If you are unclear whether you will need a visa for Norway, find out from the government information website here.

Cost
The cost of this event is £70/€80 per person.

The Campsite
We will be on the Adventist campsite Sommerfryd around 2 hours drive from Tromsø.
Sommerfryd leirsted, Nedre Langnes 9302 Rossfjordstraumen

Travel
Sommerfryd is a campsite located in the north of Norway, just 2 hours from the city of Tromsø. The best way to get there is by plane to Tromsø Airport in Norway.
The bus to the campsite will depart from Tromsø Airport Friday 23rd June at 16:00. You will be responsible for getting to Tromsø Airport and transport will then be arranged to the campsite.
If, however, the flight times available on Friday 23rd are not suitable, then you may travel one day earlier and arrive on the Thursday. You will be hosted at the local school or church for that one night.
Those who arrive in Tromsø on Thursday will be able to participate in some extra activities – the main activity being, learning to do pioneering the Scandinavian way. This will be at no extra charge!

FLIGHTS TO TROMSØ
SAS flies to Tromsø from London, Birmingham, Dublin, Manchester & Edinburgh through its hub in Oslo. They also fly from Stockholm.
Norwegian fly from Gatwick airport through Oslo.
Helvetic and Lufthansa are seasonal and fly from Zurich/Munich
HOW TO GET CHEAPER TICKETS
Norwegian: For those under 26 of age there is a discount by using the code UNDER26. Norwegian has a fair amount of these tickets, but they are very popular among students, so as usual, the earlier the better regarding booking
SAS has a similar system, but to book these so called "youth-tickets" you will have to register and log in to confirm you are under 26 of age. These tickets are a bit more expensive, but the price does include 1 checked in luggage.
RETURN JOURNEY 26th June
Because of the travel distance from the campsite we recommend you book a flight after 12, if that is possible, but we understand that some may need an earlier flight, so we will plan to have two bus departures from the site.
The first bus will leave at approx. 07:00 and the second at 09:00. This will work well with the flights leaving at 10:20 (SAS) and 12:45 (SAS) for example.

For anyone staying longer in Tromsø that there are a number of good hotels including Scandic, Clarion and Radisson Blu.

DRIVING
If you choose to drive… well, you will have a fantastic experience, but it will take you a few days each way.
Accommodation
We will be divided into units of 8 people. Since we are camping in the Arctic area, you cannot use a normal tent. So you do not have to bring your own.
You can either choose to sleep indoor in small huts, or you can sleep in a special Arctic tent with a wooden stove inside, and go for the "Full Arctic Experience" so remember your sleeping bag, and a bed sheet. No tent or mattress.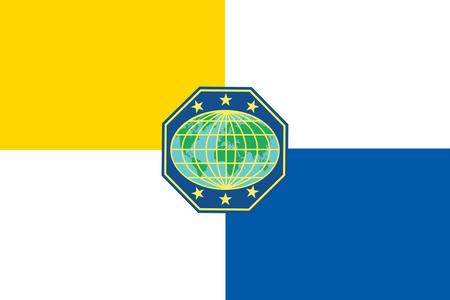 What to bring
The temperature is probably from 4-18 degrees. But since you will have chance to climb a mountain where there is still perma frost, where you will walk in snow, good boots, hat and gloves would be good. Since the sun never sets, you do not need a headlamp or flashlight.
Click here for a full list of what to bring and what you will not need to bring.

The "Midnight Sun Honour"
Everybody will have the chance to take the "Midnight Sun Honour". On Saturday night we will all go and experience the Midnight Sun from a mountain. However, since the Midnight Sun Honour needs a clear sky (to see the sun never go down) we rely on the weather. So therefore, the programme might change during the weekend. Honour details.

Stay longer
Since it is not very often (almost never) that you visit the Land of Arctic you might want to stay a day or 2 longer.
If you want to see a bit more of Tromsø on you own, we have space for around 10 people who could sleep in the Church building in Tromsø. Please contact the local pastor Andrew Campbell directly about your extended stay. The church is about 10 minutes away from the airport by car.
Spaces are limited so you will need to place your request early. If you are applying for a visa and are planning to stay on afterwards, you will need to make this clear on your passport form so that it can be included in the letter of invitation.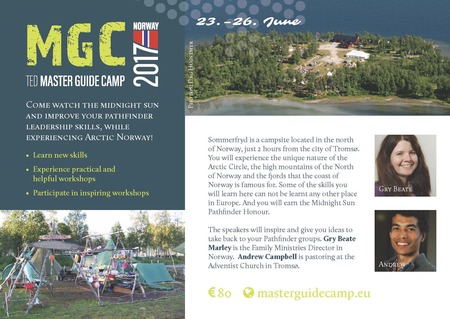 Activities/seminars
Of course since we are in an arctic area there will be some activities which are arctic-ish. But there will also be more normal Pathfinder activities. But there will be an overload of Bush craft/outdoor activities. The campsite normally offers canoeing, sauna, hiking, swimming (Yes… swimming… if there is no ice on the water).
Skills Exchange
In each unit there will be time for skills exchange. So bring your best Pathfinder activities and show your group the best you have.
PROGRAMME

Those arriving in Tromso on Thursday will be taken to the campsite by boat if arriving within the specified times below, and very early arrivals may have a short city tour first. Those who arrive early enough on Friday will also be transported to the campsite by boat. Later arrivals will be met and transported to the campsite by some other means. Please send through your flight details as soon as you have it so that we can send it on to the Norwegian Union who will arrange the transportation.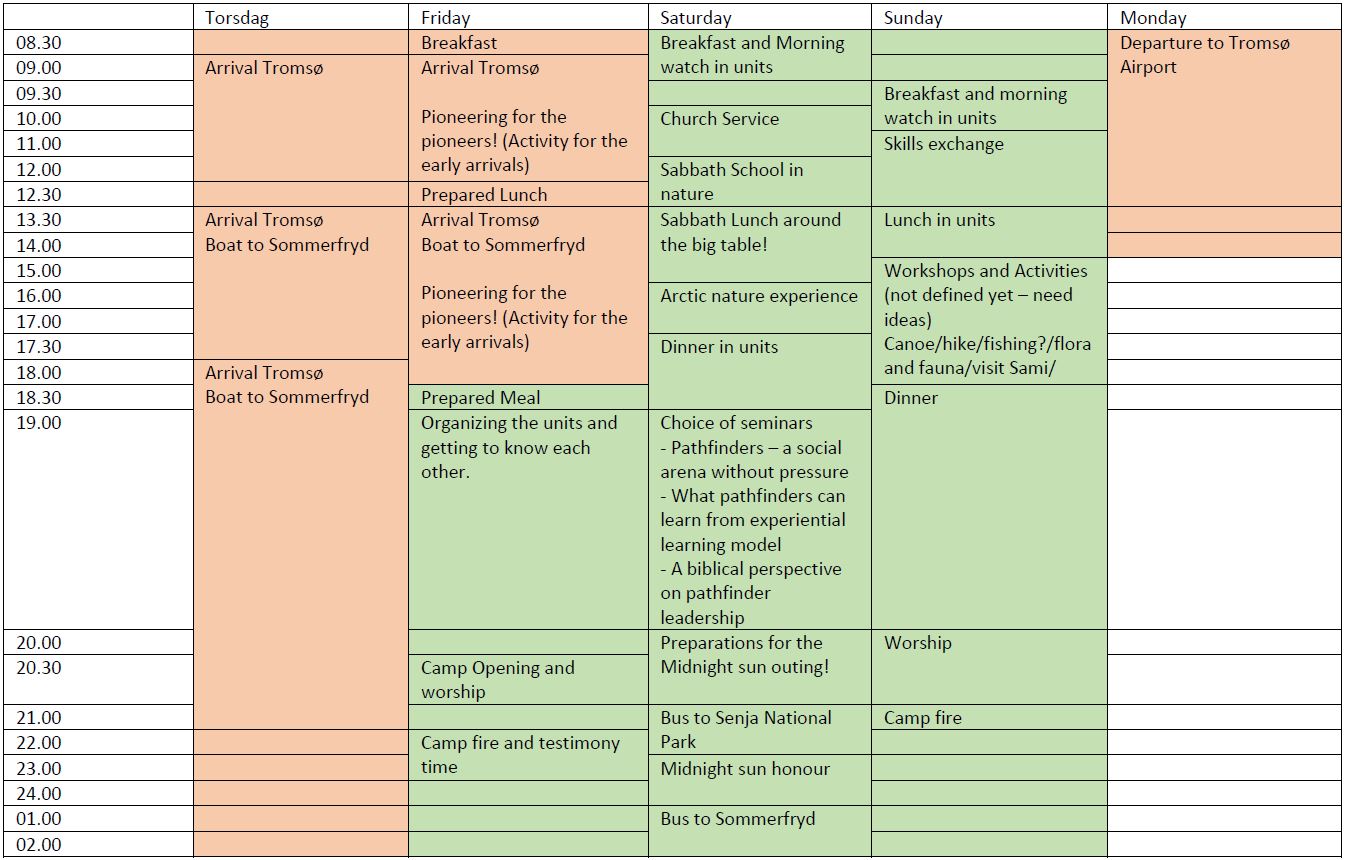 _ _