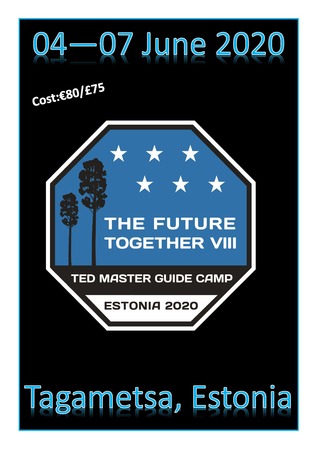 The Master Guide Camp will take place 1.5hrs from Tallinn, at Tagametsa, Estonia, on 4th - 7th June 2020. This is the eighth TED Master Guide Camp following the successes in the Netherlands, UK, Denmark, Slovenia, Norway and Poland and now we look forward to welcoming you to another very worthwhile and enjoyable event.
You can find the forms you will need below.
Application forms must be returned with full payment to your conference by Tuesday 28 April 2020.

Visa Letters
For participants who require a visa for Estonia, applications should be received by 1st April to allow enough time for Visa invitation letters to be written and returned to you.  You should use this letter to accompany your application.  You will need to make your own appointment at the Embassy and prepare your additional paperwork.
Please send your completed forms directly to pathfinders@adventist.uk for immediate attention.

MGC 2020 APPLICATION FORM
PASSPORT INFO FORM FOR LETTER OF INVITATION

Insurance
It is the responsibility of everyone attending the MG event to be fully insured for any emergencies. Every attendee must show evidence of Personal or Pathfinder club insurance covering each individual attending camp. Should insurance not be provided then ARM insurance will be taken out and the charge passed on to the individual. For UK participants, please note that during the transition period as the UK seeks trade deals outside of EU (lasting until 31 Dec 2020) the EHIC emergency medical card is still valid.
Cost
The cost of this event remains as before at €80/£75 per person.
How to get there
By plane fly to Tallinn Airport, Estonia. Transport will be arranged from the airport to the Camp site and will depart at 15:00 on Thursday. Please ensure you arrive on time as the coach cannot wait for you. The coach will return to the airport again on Sunday at 15:00
If you choose to drive you can make your way directly to Tagametsa Centre  https://goo.gl/maps/tGQ2RUacXXnRiTbh8
Arriving Early/Staying longer
If you want to arrive a day earlier/stay longer and look around Tallinn, there are some floor accommodation options available. Early/late camping is also available. Please contact Krõõt (kroot.lobus@advent.ee) for enquiries.
Location
We will spend the weekend together at Tagametsa Hunting Lodge & camping centre  http://tagametsa.ee/eng  
What to bring
We will update this in the coming weeks but you will need your tent (hammock if you wish to make use of the many trees in the camping area) your sleeping bag/mat; all personal equipment, hiking boots and gear for a night hike (2 – 12 km)
Skill Exchange
As is always a part of MGC, in each unit there will be time for skill exchange. Bring your best pathfinder activities and show your group the best you have.
FACEBOOK: Please keep tuned to https://www.facebook.com/events/527833241093701/ for more information