Relay Youth Evangelism training will take place at Newbold College this coming summer (see attachments.) The course is heavily subsidised at £99 per week inclusive of Food, accommodation and training and represents an excellent opportunity for young people who can attend between 22 June – 4 July this year. The course will involve both classroom instruction, planning and practical evangelism in and around the Bracknell area.
Young people new to Relay can participate in the two courses Foundations of Adventist Beliefs and Foundations of Youth Discipleship and Leadership whilst for those who have already taken a Relay training in-country we are offering a Relay Plus during the first week.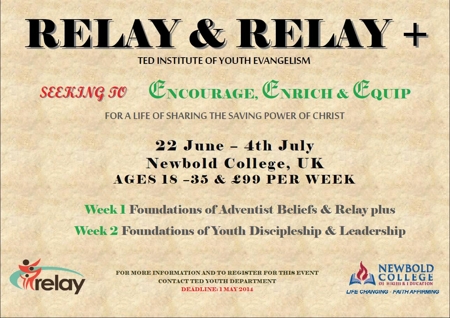 The registration deadline is 1 May 2014. If you are interested, please contact Judy Plaatjes in the Trans-European Division Youth Ministries Dept.