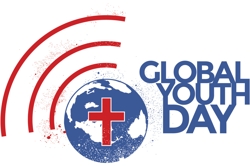 SABBATH 21 MARCH 2015
Why Global Youth Day?
GYD is the pursuit of a vision to recapture the reality of Seventh-day youth as a global movement, mobilized for service to contribute in the proclamation of the everlasting gospel and usher in the second coming of Jesus Christ.
Grounded in the concluding words of Jesus in the parable of the Good Samaritan, "Go and do likewise" (Luke 10:25-37), the theme of the Global Youth Day is:
"BE THE SERMON"


GYD is a Sabbath when Seventh-day Adventist Youth around the world are challenged to "Be the Sermon" instead of simply listening to one more sermon. Eight million Adventist youths are mobilized on the streets of our villages, towns, and cities around the world to be the hands and feet of Jesus through acts of kindness. GYD is scheduled on the first Sabbath of the youth week of prayer for most parts of the world.
On GYD, the sense of a global community is created as young people report their acts of kindness by posting their 'love in action' on the GYD face book page or GYD app; their stories are told to the rest of the world via a 24 hour live broadcast.
Please contact your conference or mission youth department to find out what they have planned and to see how they can help you achieve your mission for the day.
OFFICIAL VIDEO
REGISTER YOUR LOCATION ON THE GYD WORLD MAP
Download the Global Youth Day app and use it to upload your pics and videos, rather than Facebook. Why? Only through the app can our technicians and engineers geotrack your location to add your activity to the live map on the GYD Home Page. Make sure your local group is plugged into the worldwide movement! Click

here for Apple

and

click here for Android

.
GYD Philosophy
Suggested Activities
Getting ready for GYD
Tips for GYD
Printing for T-shirts and other promotional items

-

please Contact BUC Youth Dept for details
Postcard with bleed
globalyouthday.org

|

facebook.com/adventistglobalyouthday
twitter.com/gcythmin

|

instagram.com/gcythmin

| #globalyouthday | #GYD15
youtube.com/gcyouthministries

|

vimeo.com/gcythmin